Monday, 18 October -- Arrival in Buenos Aires
We have made it to beautiful Buenos Aires. The flight was very long – despite being in first class (the food was very good), we did not get any significant amount of sleep. At the airport, there were very long lines to pay the "reciprocity fee" and go through passport control – we tried to practice our Spanish and the clerk asked if it was our first time here. I told her my mother was from here, and she said that was very appropriate, because we landed on el Dia de la Madre – Mother's Day!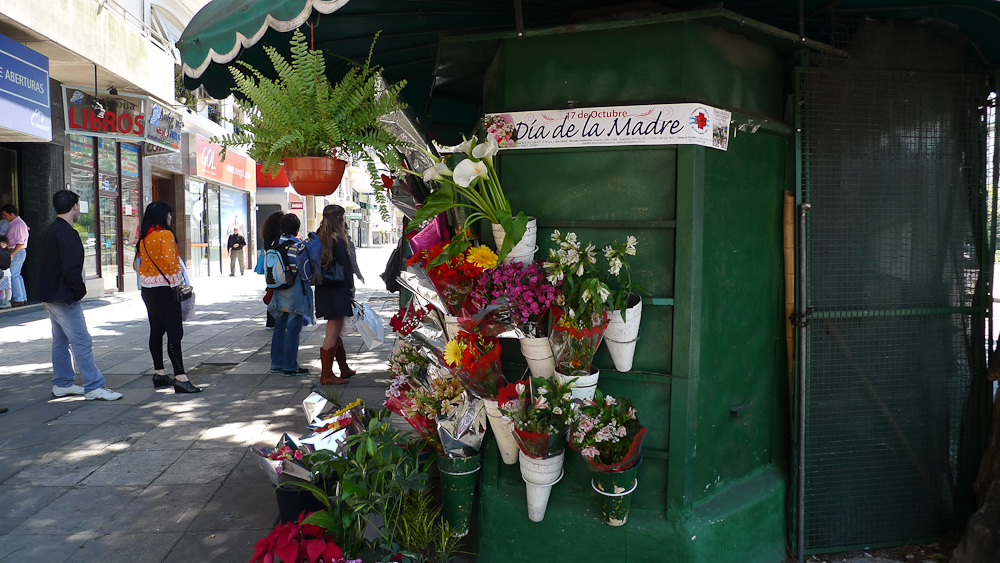 The hotel is very good – it is the one Lindblad had booked, but the rest of the group doesn't get here until Tuesday. The room comes with breakfast, which is served until 10:30--we got here at 10. We took a quick shower to help us pretend we had had a night's sleep and ran down to the restaurant, where there was a magnificent buffet. Because of Mother's Day, there were a number of local people celebrating with cakes and such, in addition to the hotel residents.
We decided to walk down to the Teatro de Colon, the famous opera house, and see if there was any way we could get to see an opera. They are doing two short one-act operas currently, one with a libretto by Oscar Wilde! There was, in fact, a Sunday matinee at 5 pm, and a few tickets left, but we finally decided not to spend a large amount to attend a performance at which we would almost certainly fall asleep. It is dark on Monday, and Tuesday there is a Lindblad event, so I'm afraid we will miss it. It is, however, quite an impressive building.
We like figuring out public transportation, so we made our way to the Obelisk, which marks the big central subway station (the Subte, which I imagine is short for some version of "subterranean"). There is a famous antiques market on Sunday at the Mercado San Telmo, so we went there. After a bit of walk through a less-than-great neighborhood, we found it, as we had been told, by the huge crowds, which seemed to be composed of many locals as well as tourists. There was a street market stretching for miles along one street, with vendors selling things off of blankets on either side, street performers of various kinds, music and so on. There was a puppeteer with marionettes doing the Tango to recordings of Carlos Gardel, as well as a Carlos Gardel imitator with a sign "Gardel Vive", and so on. When we reached the big plaza with a huge plaza filled with booths, there were many selling Gardel sheet music and LPs. There was also a lot Che Guevara stuff (a student on the subway had a Che Guevara biography that was clearly a textbook), and mate paraphernalia everywhere (mate being the national drink, a kind of herbal tea that everyone drinks).
We saw a bunch of posters informing us that, in addition to Mother's Day, it was the 55th anniversary of the Peronistas, the huge workers' demonstration on October 17th 1945 at which Eva Peron demanded the release of Juan Peron, who had been arrested by the military junta; the beginning of their rise to power.
We found a parilla (grill) that was obviously very popular, as there was a long wait even in the early afternoon, even though people don't eat dinner here until 9pm or later. Maybe it was because of Mother's Day. We had our first Argentine steak, and it was, as advertised, excellent. The waiter was amused because we shared one steak and didn't order 4 other courses to go with it, as did everyone else. Sharing orders seemed common practice since the waiters cut each portion into the required number of pieces using a spoon in a very practices way!
By the time we found our way back, we were exhausted – I intended to write then, but fell asleep at 6 pm, and slept right through to 7 am this morning. I feel much better now, but it is certainly a good thing that we hadn't tried to go to the Opera at 5!
Today we had intended to go to the zoo, but it turns out to be closed on Monday, so we will go tomorrow. Haven't yet decided what to do today. We will probably walk up to the Recoleta, the famous cemetery and park that is just a little way from our hotel then take the Subte to the Retiro train station where the monument to the Islas Malvinas(Falklands) war and the Argentine "Big Ben" uneasily face each other from across the street.. The city is impressive, many plazas and monuments, full of trees and flowers, but the infrastructure is crumbling, and there are homeless people on many benches. There is a lot of graffiti, although there is also a lot of art, including graffiti that has been turned into art, much of it very good. The subways are full of beautiful tile and mosaics, some of them crumbling, and some of them restored and magnificent. The country has clearly been through some hard times, but seems quite prosperous at the moment. It is certainly vibrant and exciting, there is a lot going on. I can see why, as we have read, people come to visit and just decide to move here.
---
Tuesday, 19 October -- Looking around on our own
Recoleta, a basilica built in the 18th century, stands beside the famous Cementario de la Recoleta, where anybody who was anybody is buried, including, most famously, Eva Peron. We're supposed to go here with the tour on Thursday, but since we explore new places by walking in random directions, here we are. Surprise!
First we looked into the church itself, which is extremely ornate, and into the historic cloisters. These included displays of intricately embroidered robes, a beautiful illuminated manuscript of a hymn book with very large letters and music that seemed as though it was meant to be set up in front of a choir, so everyone could read it – and windows from several centuries ago made of translucent alabaster rather than glass. Argentina is a Catholic country and it shows.
Recoleta is also a City of the Dead; a vast collection of tombs and mausoleums, laid out along narrow avenues, each one utterly different from the next in a bewildering variety of styles ranging from austere to magnificently baroque. Some are crumbling, some historic ones are being restored, some are obviously well tended by relatives or descendants. We wandered among them, amazed, for some time before seeking out Eva Peron. Her large and ornate mausoleum was distinguished by many fresh flowers and a large crowd listening to a tour guide.
Next door to the basilica is a large and modern mall, extremely upscale, which specializes in modern design. It was getting toward lunchtime, but rather than eat in that very ritzy neighborhood, we decided to head down to the train station. That neighborhood, of course, was quite the opposite, so we caught the Subte (Underground) up a stop or two, found a place that offered just the right atmosphere, a sidewalk cafe across from a lovely park. Ordering food in a country where one is not fluent is problematic. Judy had "meat cut up with knives", which proved to be very good. It also contained hard-boiled egg, a little potato and corn, and a single whole olive.
We took the Subte again in order to ride the A line, which still has original wooden cars from when the system was first built in the 19th century. Similar in look and feel to the Cable Cars, but not so clearly a tourist destination.
Near the rail station is a large park, where there are two remarkable monuments opposite one another. One is clock tower, nicknamed Big Ben because it was donated to the city by the British inhabitants in 1910 to celebrate the centennial of independence. It is full of symbols of friendship between Argentina and Britain, which had a close and profitable trading partnership for many years. Across the square is the other, a memorial to the dead of the war for the Islas Malvinas – the Falklands war. It is a wall of names, like the Vietnam memorial, with an eternal flame, and two soldiers in full dress uniform with rifles and bayonets standing vigil. Not so friendly now, at the bicentennial. The clock tower was nearly destroyed by riots during the war. Today it is restored. Let it be a sign for the future.
---
Wed, 20 October - Meeting the group
This morning most of the rest of the Lindblad group arrived and we started to meet some of our fellow passengers, including another couple who had arrived a day early and were anxious, as we were, to sign up for tomorrow's early-morning bird walk before it filled up. After signing up at nine, we finally set off on the Subte for the zoo. One of the local Lindblad guides mentioned to us that we should look out for the original buildings and cages. Although all of the large animals have been moved to more modern moated enclosures, many of the old building remain, and they were designed to recall the styles of the animals' countries of origin – Indian for the Indian elephants, Aztec for the jaguar, and so on.
The zoo was well worth waiting for. In addition to the lovely grounds and wonderful old buildings, and the good collection of animals, there were almost as many animals running around loose. Ducks and ducklings, geese and goslings, little web-footed rodents (nutrias, I think) with babies, and lots of wonderful big rodents of some kind and their babies, all clearly expecting to be fed and coming right up to people. I'm not sure what they were expecting to be fed actually. The zoo sells vet-approved critter chow (taking me right back to my childhood!), but the uncaged critters turned up their noses. Perhaps they prefer popcorn.
Since it's a weekday, the place was full of school groups, ranging from kindergarten size to middle school, in uniformed groups led by docents who were providing what seems to be pretty comprehensive lectures. The zoo seems to have good educational outreach program.
There were also loads of birds, probably common but still exotic to us, and egrets and night herons nesting in the trees (it is early spring here). We even saw a huge lizard of some sort just sitting under a bush, and there were tortoises and turtles everywhere.
We spent the whole morning there, and were tired enough to take a taxi back to the hotel. Much faster and easier than the Subte plus walking, and it was only about $5. That meant we got back in time for lunch before the first Lindblad tour, which was scheduled for 2. We met our friend from our previous trip to Alaska, and spent our lunch catching up.
The bus tour took us back to the Recoleta cemetery, but this time with a knowledgeable guide who added a new dimension to it, so we didn't at all mind going back. We took a lot more pictures, it will probably get a page all to itself on our web site when we get back.
The next stop was the Evita Museum, where the museum provided a really excellent guide who gave a very thorough and thought-provoking presentation, placing Eva Peron in the context of her time, and trying to get across the hugely complex and contradictory political ramifications of the Peronista movement that continues very strongly into the present-day politics of Argentina.
After a drive-by tour of the government buildings and more commentary, they ended the tour by taking us all out for ice cream. Its reputation appears to be justified.
We went back to the little cafe around the corner for another steak. They recognized and welcomed us immediately, although we were the only ones there actually eating a meal at the unheard-of early hour of 7:00 pm. Most restaurants don't even open until 8. We are now trying to have an early night, since we have a 5:30 wake-up call for the bird walk at 6:30, then a full day of tour activities after that. Looks like our wandering days are over – but we are starting to get excited now about the ship and the trip proper.
PS: Dogs, dogs, dogs, cats. . .
Buenos Aires, perhaps all of Argentina, has an infatuation with dogs. Dog walkers hold double fistfuls of their charges, leaning back against the onward surge of 10-15 animals as they head toward or away from the ubiquitous dog parks. The marks of their passage are also ubiquitous, recommending caution to all pedestrians. The dozen dogs on leads run amiably together, but also stop to assail any single escorted animal. We saw one poor terrified Yorkie hiding behind its owner as a large pack stopped to bark hello. There seem to be no leash laws, and we see both leashed and unleashed dogs with their owners. Stray animals are allowed to roam unmolested. Canny animals, they obey traffic signals and are acutely aware of how and why people interact with them. If you make eye contact, they will follow for a block or three, hoping for a handout.
We don't see so many cats here in the heart of the city, but they live in both the zoo and the Recoleta cemetery, where they look reasonably healthy and appear unafraid of people. We even saw one that apparently lives in the upscale shopping mall.